Tuesday, November 16, 2004
SAGADA Revisited
November 12-16, 2004
Friday Night, Nov. 12

I was up late, waiting for more news and details about Prana. Then I couldn't sleep because I was mostly imagining what it takes to actually have someone lose her foot (as in the foot, and not her footing) as she was carried by the river to where she ended up. I was also amazed at how rational her father was, stating that he knows he couldn't blame anybody else but his child. And then, I had a bad dream involving climbing.
And so, I woke up with this heavy feeling on my chest. And I had to relive the horror of my alone-ness in Banahaw. And upon going home to get my stuff after work... I had to watch news of the derailed train. I kept asking God all day, was I just affected by Prana's misfortune, or was He telling me not to go?
Then again, my parents who knew of the death and who saw the train accident on the news didn't seem to mind me going off to Cordillera. So, I bid them all adieu, kissed Pyro goodbye, and was fortunate enough to get a cab for the Autobus terminal.
The bus left the terminal at almost 11:00 PM. The journey was relatively uneventful.
Saturday, Nov. 13

We arrived at Banaue before 8:00 AM. We had breakfast somewhere, where the cook obviously had an intense love affair with rock salt, and thus killed any love affair I had with omelets. Their onion soup was great tho, but it did take the better part of 2 hours to arrive.
We rented 2 jeeps for Sagada and had several stopovers to take pictures of the rice terraces ruined by towns and quarries. What's left of Banaue's magnificence was still very much a sight to behold... however, the early morning sun refused to cooperate much in the way of taking pictures.
Because it was cold, we also had to keep stopping for wiwi breaks.
(for those who didn't get the pic, none of them were actually taking a piss, ok? i'd never allow that!)
We were running kinda late, and arrived at our inn (Traveller's Inn) at past 12:00 NN. We decided to just rest the whole afternoon, take baths, postpone spelunking for the next day and just go to Echo Valley before the sun sets.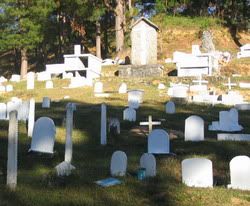 Going to Echo Valley was easy, although I kept on making wrong turns. Good thing, the local kids were only too happy to lead us to the right paths, in exchange for some coins and well... participation in our photoshoots.
It was just around 4:00 PM, the sun was still high enough to cast shadows all over the place so taking pictures of the coffins became a challenge. I also think I took better pics of them the last time I was there...
Anyway, notice the chair hanging with the coffins? I couldn't take a good pic of that!!! My hands kept shaking from the cold and the allergic reaction to the blades of grass.
Buffet dinner at Alfredo's was filling... and socials that night was a blast. Either out of inebriation or just plain happiness, the guys kept gyrating like macho dancers the whole night. The Boondockers also started discussing the evolution of the group into something better.
Sunday, Nov. 14

I was adamant about taking pictures inside Sumaguing Cave. Alas, even if I waterproofed my cam using Ziploc... I was too busy watching my step, and trying not to feel so cold.. to actually take pictures. Besides, I had someone else bring the backpack with my cam in it. And of course, it's far easier to just pose along with the group for pictures.
Still, the cave was every bit breathtaking and wonderful as I remembered it to be. I suspect that I'd always be amazed at how amazingly time has transformed its rocks into smooth walls that makes you think of bananas.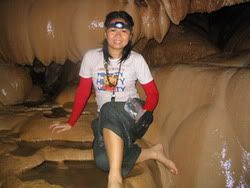 The water was of course, really very cold. I couldn't move after jumping into almost-chest high waters and just kept shaking and saying "Shootix". One of us even lost balance which resulted in their cellphones getting wet.
Sadly, the guides didn't point out fossils like they did with my MMS group last year. However, they pointed out the Pregnant Woman (basically, it looked to me like an ass) and the Pecker(supposedly, the one responsible for the preggy woman.. ahehehe... a rock formation fashioned like a d!ck by time).
Speaking of d!cks tho... my palawiwiwi boys were only too happy to pose.
The Sumaguing Cave is definitely worth the butt-breaking trip to Sagada. All of us had fun, and I for one wondered again when I'd get to bring my sister there.
Alas, Big Falls was closed because the natives were holding a ritual there that day. Part of the group went instead to Mini Falls while the others went to Mt. Ampacao and Lake Danum.
The view going to the Mini Falls was great, but the falls itself was disappointing, mainly because we arrived to see briefs-sporting men doing their laundry.
That night though, after dinner at Masferre's, we went back to the Sanctuary, a souvenir shop and cafe of sorts. There, the owner and his gracious wife (and their cute 8-month old boy) welcomed us to eat and drink and be merry while the man played local songs using local instruments for us.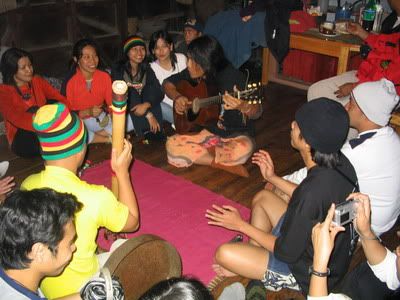 What's even cooler was being lent other instruments, and being able to play along with him and redefining songs with our own tempo and by our individuality. The night had to end early, since Sagada is strict with their 9:00 PM curfew, but it ended with my friends dancing and playing along with our host. It was a quaint, romantic, and all-too personal cap to a great day.
Not that we didn't make use of the love dice I brought with me, after we got back to the inn.
Monday, Nov. 15

The first batch Sagada at past 5:00 AM. It was a 6-hour journey to Baguio, where we passed through more preserved terraces and verdant forests. It's sceneries like those that make you feel blessed you're alive for they seem to promise every possibility.
We ate breakfast at Benguet. We ate lunch at Burnham Park. We watched THE INCREDIBLES at SM Baguio. Our bus left at 6:00 PM. But as luck would have it, those of our group who left at 7:00 and 10:00 AM arrived in Manila at almost the same time we did.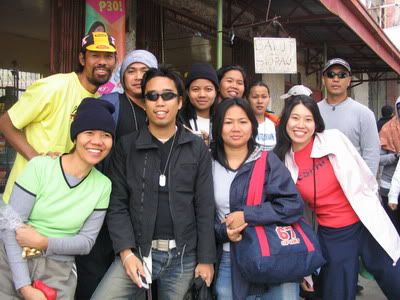 It was a blast... and a trip I loved taking.
a horrifying thing I heard

The government is going to provide electricity in Batad next year... so people who want to see the tranquil place and enjoy the peace and rustic life it has to offer have until December this year... after that, it's just not going to be the same anymore.
last palawiwi hiret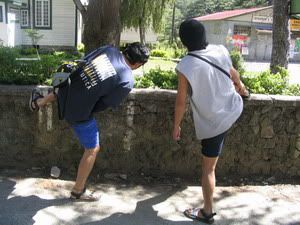 why "sagada"?

A foreigner was asking what the name of the place was... a local thought the foreigner was asking what the thing he was carrying was called... Turned out, brooms were called
sagad
in their local dialect, so that's what he answered the foreigner. After sometime... the name evolved into Sagada, its present name.
by
~me~
at
5:00 PM
©
---