Sunday, September 19, 2004
MT. STO. TOMAS CONQUERED
Baguio, September 18, 2004
We all gathered at Victory Liner Cubao Friday Night
(5 peeps were already in Baguio)
. I think there were 13 of us who just managed to take enough seats at the bus. I got to sit beside this man who stank like hell... it's not that he had an awful B.O. problem
(which would have given me a migraine)
, it was just that, his breath was real bad... and this stinky smell that makes me think he ate nothing but kikchi
(or something as Chinese herbal-y)
emanates from him in waves and waves of bad odor, especially when he breathes out. Ugh, no words... it was just sheer torture having to suffer his smell for some 6 hours.
*~*
We started late... around 9:30 am. We traversed the river for around an hour. We were rained down near the Burial Caves at around 4:00 pm. That certainly killed any curiosity any of us might have to actually enter the burial cave and take pictures of the bones or coffins there. Twas also the FIRST TIME for me to actually do the trekking under the rain... i was soaking wet all over.
*~*
First time I was very unprepared. I didn't have any much in the way of trail food, and I didn't have any poncho
(I always had one before, my last climb was GuisGuis-Banahaw and I used my poncho there, and when I went looking for one last friday, Handyman no longer sells the small ones so I went without... bad thing, really)
. Also, i didn't have my mojos with me
(left them at work)
so I had to wade through the river using my trek shoes (notwithstanding the fact that all of us had our shoes drenched by the rain by the time we got to the Radar Peak). And because it was supposed to be just a day's hike... only few of us brought flashlights/lamps
(i can think of only 3 who brought lamps)
and ponchos
(most brought jackets, myself included)
which seemed ominous as we huddled under a rock, contemplating on worst case scenarios while the rain refuses to let up, and most of our party haven't caught up with us. I even got convinced to sip coffee out of a silent fright that i'd get too cold too soon. We were still some 30 minutes
(if you're fast)
from the Radar Peak then... and some 40 minutes from the dirt road which would require an hour more of walking before we can reach jeepneys for hire to take us back to the wonderful, sun-filled town of Baguio.
And I did say I was fresh from an allergy attack then, right? And I lacked exercise and physical preparation for the climb?
*~*
It was wonderful that the party was able to catch up... even when one of the neophytes was left on her own for a while. We finished the climb enclosed in fog and drenched in rain.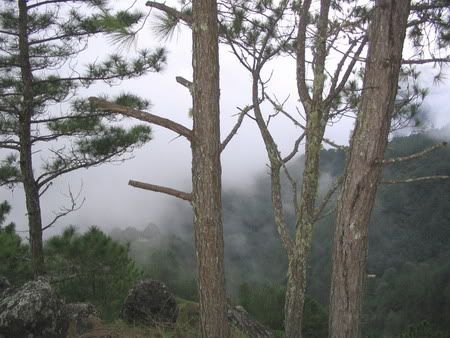 *~*
Those who have been to Pulag said that if I was able to climb Sto. Tomas, I could climb Pulag too. Only, I might not make it through the cold in Pulag
(negative degree Celsius especially during Jan-Feb)
. Still, it was such a comforting thought that I didn't faint or wheezed. It was also great that there were other neophytes with us. And equally great that this group doesn't climb as if dogs were running after them. I also cannot help but appreciate Manong Cesar, who instructed us
not to think of how we'd get to the peak, but to enjoy the journey up and the view.
There were also people from the Baguio outdoor shop who came along with us, and they good-naturedly accompanied the stragglers who were finding it harder to climb
(one of us already had a weak ankle from climbing and she sort of twisted it again)
. They also quietly shared their hot coffee and smokes
(it was this marijuana-like thing which Manong Ces said is legal and local, made from plants and tobacco)
.
*~*
The view was great. The lake as seen from the Radar Peak was breathtaking at sunset. The river
(reminiscent of Famy and GuisGuis)
was so clear and cool. There were a lot of water sources, and the locals were very generous and friendly. Only, I was too mindful of my steps and breathing that I wasn't in the mood to take pictures of the river. In fact, i didn't take much photos at all, and some of the ones I took came out dark. I was also very happy that a lot brought cameras and therefore, I could pose to my heart's content.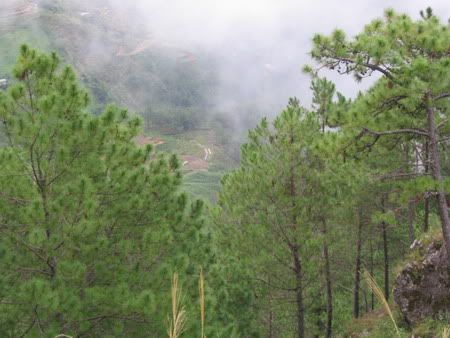 The river trek was easier compared to GuisGuis, because the river current wasn't so strong. The trail from the river was filled with pines (which smelled wonderful) and brambles and grass
(it beats Batulao)
and left some of my friends scratched and itchy. Some got small cuts too. The rocks can prove tricky too. In retrospect, it wasn't such a hard climb, especially since we weren't lugging around full packs. But it's a major climb at 2,008 feet, especially since we seemd to have started the trek from another mountain
(think Tirad Pass)
.
*~*
I was soooo bloody cold I was barely thinking as we headed back to the house where we're staying. Dinner of tinapa, spicy chicken yakisoba noodles
(a new fave)
, fried hotdogs, chopped tomatoes and some of the bicol express-flavored Century Tuna i initially bought for breakfast.... was divine!!!
There was some drinking after, Jenny's M5
(a sweet concoction made from vodka, wine and three other deadly stuff)
rendered everyone asleep by 11:00 pm.
*~*
Sunday was spent buying stuff from ukay-ukay, eating at Burnham Park and going to the market to buy
pasalubongs
. Left Baguio at 5:00 pm and got home at 12:00 MN.
*~*
Thank you, God, for the wonderful climb and the wonderful people (Miles, Lei, Marlon, Steve, Ad, Teng, Panky?, Annie, beau ni Ching, Gov, Mang Cesar, the people from the outdoor shop) I met and those (Leng, TK, Ching, Arn, Elaine, Sir Max, Jonas) that I reconnected with. Twas a great birthday climb!!!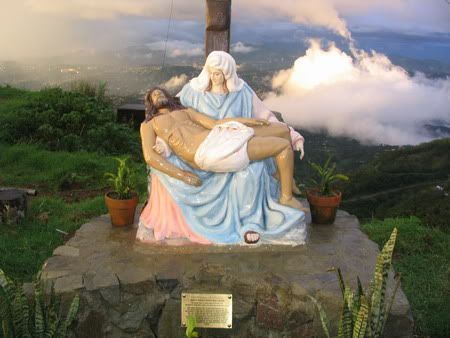 by
~me~
at
5:38 PM
©
---